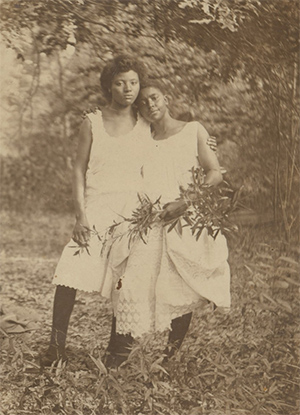 Photographs exist in every collection area of the Cornell Library's Division of Rare and Manuscript Collections (RMC). There are an estimated one million photographs in RMC, representing nearly all processes and formats in use from the 1840s to the present. The following collections complement other photographic collections at Cornell held by the Johnson Museum of Art and the Kheel Center for Labor-Management Documentation.
The Stephan and Beth Loewentheil Family Photographic Collection includes important early literature on photography from England and France, carte-de-visite albums from the estates of William Henry Fox Talbot, Mark Twain, and Charles Dickens, and more than 16,000 American photographs, including major concentrations of Civil War photographs by the Brady studio, albums documenting African-American life from the late nineteenth century to the 1970s, and photographic folk art.
Rich holdings of photographically and photomechanically illustrated publications trace the history of photography as an illustrative technique and its incorporation into the publishing industry from the 1840s onward.
The Harry Weintraub Collection of Gay-Related Photography provides a wide view of men's bodies and gay men's lives, styles, and activities from the 1850s onwards through thousands of photographs, including a group by George Platt Lynes.
RMC holds the archives of several noted contemporary photographers. The Larry Clark archive includes hundreds of photographs made by Clark for his controversial and influential photobooks Tulsa and Teenage Lust. The papers of Anthony Barboza contain roughly one thousand photographs of prominent jazz musicians and African-American artists, dancers, and writers from the 1970s to 1990s. Thousands of photographs by Joe Conzo, Jr. and Ernie Paniccioli record hip hop's early days, while leading artists of later decades are celebrated in portraits by David Scheinbaum. The archive of Honey Lee Cottrell, who helped define lesbian erotica in the 1980s, includes photographs from the pioneering women's sex magazine On Our Backs.
The University Archives preserves items documenting the history of the university from 1868 to the present, as well as photographs created or collected by Cornell faculty and alumni working in multiple fields, such as Liberty Hyde Bailey (horticulture), Arthur Allen (ornithology), Oscar Diedrich von Engeln and Ralph S. Tarr (geology), and Willard Straight (diplomacy and reporting in China, Japan, and Korea). The Andrew Dickson White Architectural Photographs collection, assembled by Cornell's first president, contains approximately 12,000 nineteenth- and early twentieth-century photographs of American, European and Middle Eastern architecture and sculpture.
Other highlights include large collections of archaeological and anthropological photographs by William Henry Haynes (Anatolia), Niels Douwes Dekker (Indonesia), Francois-Jules Harmand (Southeast Asia), Frederick Howell (Iceland), and Hedda Morrison (Sarawak), and photographs related to city planning and landscape architecture by John Nolen and Ellen Shipman, respectively.
RMC also collects born-digital materials and is actively working to digitize selections from its photographic collections. For more information or to find digitized materials, please visit the Digital Collections page.
The above description is by no means exhaustive. For inquiries, please contact rareref@cornell.edu. To learn more about searching the catalog and making appointments in the reading room, see information on finding materials.