Research & Instruction Services Overview
Located on level 2B of the Carl A. Kroch Library on the central Cornell campus, the Division of Rare and Manuscript Collections is open to the public—to students, faculty, visiting researchers and members of the community. See Collection Highlights for a summary of  our major holdings.
We normally respond to questions about the current availability of materials by the next business day and answer other questions about our collections within two weeks. If you need someone to look through a collection for you, we will provide a list of independent researchers you could choose to hire to help you.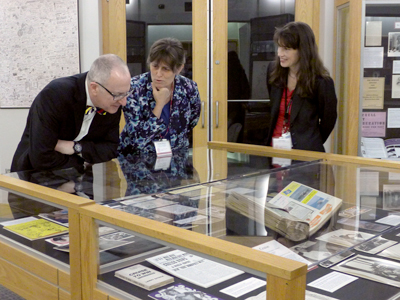 Balancing access and long-term preservation. Anyone may come see materials held by Cornell's Division of Rare and Manuscript Collections. However, because the collections are old, scarce, and often fragile, they are stored in secure, environmentally controlled vaults and are used only in our secure spaces. Library staff members retrieve items upon request. Patrons must handle items with appropriate care and must respect any stated restrictions. Some materials require an advance appointment.
If you are planning a research visit, we recommend requesting the material two weeks prior. To start, go to Registration and Guidelines​ and follow the directions. For more information, see Information for Visitors and Finding Materials.
For questions concerning access to Cornell University building plans and drawings, please see Facilities and Campus Services – Archiving Services.